Premium Bar Snacks Business Secures £300k to Expand its Product Range
Maidenhead based company, Made for Drink, has secured a £300k loan from the Thames Valley Berkshire (TVB) Funding Escalator to develop its product range and enable the creation of 13 new jobs.
Established in 2016, Made For Drink offers premium snacks specifically created to pair with alcoholic drinks. Made by hand in Berkshire, the high-end snacks are a welcome alternative to the standard nuts and crisps that often accompany a drink. Their Chorizo Thins, Chicken Salt Fries and Salami Chips can be found in Harvey Nichols, Waitrose, Virgin Wines and Rick Stein establishments, as well as being available in over 2,000 independent outlets.
The funding will allow the business to deliver their expansion plan into 30 Booths stores across the North of England. To facilitate the growing demand for their products, the company is also set to recruit across their production and marketing teams.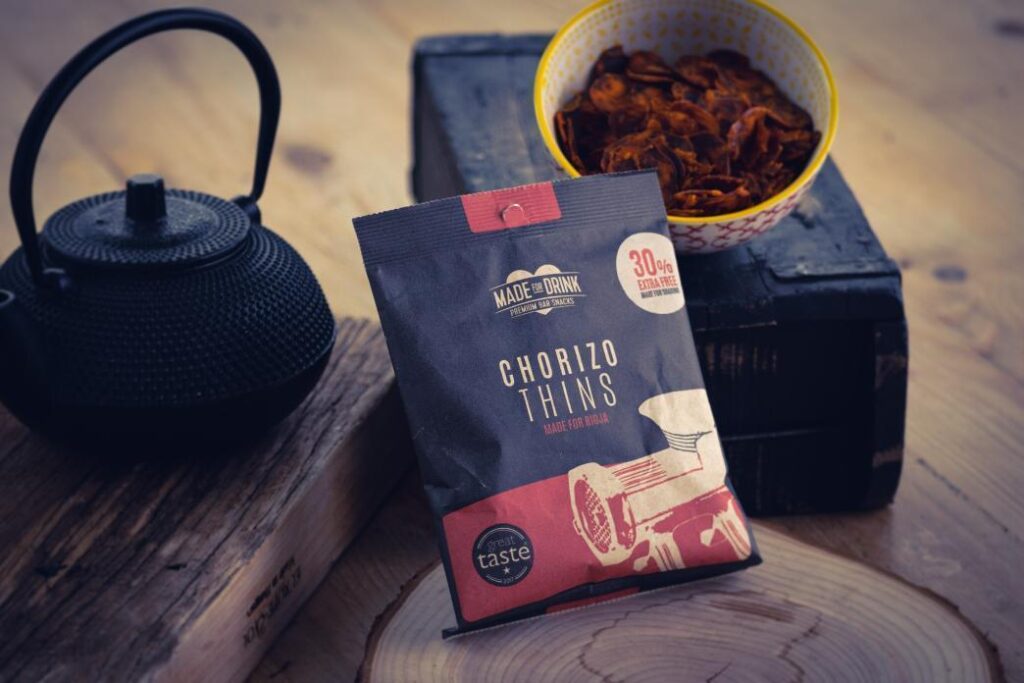 Dan Featherstone, Founder of Ruscombe Artisan Food & Drink t/a Made for Drink explains: "Good food and drink bring people together, that's our aim and it's something we're incredibly passionate about. Our snacks are made with the utmost care, from product design right the way through to packaging. We're proud of the fact that we don't use mega factories and that our products are sold in home compostable plastic free packaging which is environmentally friendly. We're very grateful to have worked with Simon at The FSE Group who understood and encouraged our enthusiasm while helping us through the funding process."
Simon Blackbourn, Investment Manager at The FSE Group, who manage the TVB Funding Escalator on behalf of the Thames Valley Berkshire Local Enterprise Partnership, commented, "Made for Drink has an incredibly experienced management team who understand not only the vibrant snacking sector, but the environmental factors associated with it. Both their knowledge and dedication shine through and are obvious in the quality of their unique and delicious products. We were impressed with Made For Drink's ability to pivot the business towards an online focus during COVID-19 and their use of the many routes to market that the food and drink sector has access to. The FSE Group was delighted to help the team secure funding and we look forward to watching them grow and develop even more wonderful snacks."
Jacinta George, Business Environment and Board Director at Thames Valley Berkshire LEP added, "Dan has built a sound business focussed on quality. I'm delighted that the fund has been able to help the business move to the next level, including the creation of jobs. The LEP's priority is to support businesses at a time they need it. Despite the pandemic, through the Funding Escalator and Berkshire Business Growth Hub we have continued to offer local businesses free guidance and financial support where the traditional routes may not have been as easily available or accessible."
The TVB Funding Escalator, an £11.3m initiative funded by Thames Valley Berkshire LEP. The escalator, which includes an expansion loan scheme, a trade finance loan scheme and an equity growth fund, provides eligible companies with loans and equity funding between £50,000 and £300,000 for activities that will deliver high-growth and employment opportunities across the Berkshire area.
For more information about the Thames Valley Berkshire Funding Escalator, please visit https://www.thefsegroup.com/fund/thames-valley-berkshire-funding-escalator/ or contact Simon Blackbourn simon.blackbourn@thefsegroup.com tel: 07436 189762
For more information about Ruscombe Artisan Food & Drink please visit www.madefordrink.com